What We Do
File Expenses facilitates expense management quickly and easily in any currency.
File Expenses revolves around the users within an account profile: Submitters, Approvers, Administrators. In each case, users have access to extensive reporting and analytics.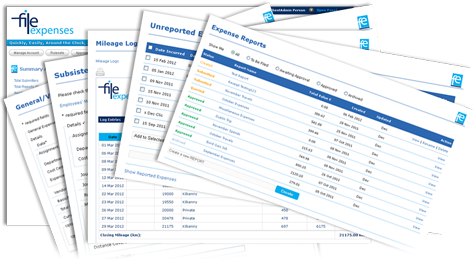 Account Types
File Expenses provide access to our systems on two account levels: Personal Account and Business Account.
Business Account
Our business accounts are built for scale and complexity and deliver expense management quickly and easily.
Self-Employed, Contractor or Freelance

Track all your expenses with receipts and allocate according to your needs.
Track your billable time
Invoice your clients directly from our systems and include both billable time and associated expenses with receipts if necessary.

Small to Medium Enterprise

File Expenses caters for any size of organisation and delivers a solution based on your customised requirements
Your users, whether submitter, approver or administrators have access to cutting edge expense management tools
Where appropriate, we also facilitate VAT analysis allowing you to fully claim your VAT entitlement

Corporate

Whatever your size, whatever currency you use and wherever your employees go, File Expenses gives you and them the Expense Management tools your business expects.
We operate live currency exchange rates to a home currency or facilitate your rate, whichever suits your requirements
Types of User
File Expenses provide access to our systems on three user levels: Submitter, Approver and Administrator.
All are linked on our systems with reminders and updates issued automatically by email when input is required.
Submitter
Access your account on the go or at your desk
Track all your expenses based on your account type
Create and Submit expense reports together with electronic receipts for approval
View expense report status and analytics
Keep all your receipts and expense reports safe and secure
Approver
Multiple approver levels are available, if required
Expense reports are passed electronically from submitter to approver and approver to approver
Full access to all our reporting and analytics and bespoke reporting is also available
Administrator
Account administrators have full access to our systems
Set-up all users and assign approvers within an account
Create and associate Rule Sets with all users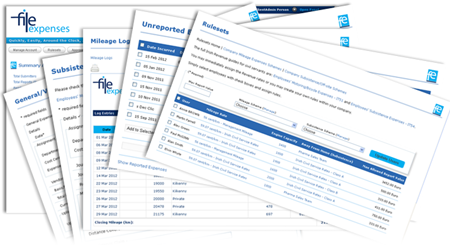 Reports and Analytics
File Expenses provides access to extensive reporting tools through an analytics dashboard.
How do our accounts differ and what does it cost?
What to do now?
Simply sign up for one of our account levels. If you want a taste of what we offer, the personal account level provides FREE access to some of our features. Just email address required (no credit card).